News/Blog

Stay up-to-date on what trade shows we will be at around the country and read all about how our products can significantly benefit both you and your horse in our blog!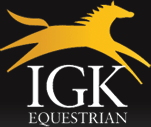 IGK
IGK Equestrian LLC, a division of North Brook Farms, Inc., is a diversified manufacturing company with product offerings in the equine, commercial/industrial and consumer markets. Our products range from an animal comfort "mattress" and horse arena footing to alternative building materials, heavily centered on a recycled materials philosophy. As a company, we strive to deliver simple, cost effective solutions for our markets. IGK Equestrian LLC adheres to the creed of "looking for a better idea" which offers innovative solutions for our customers.
IGK Equestrian LLC benefits from the 25 years of experience of its parent company, North Brook Farms, Inc., that has been marketing and manufacturing cow and equine comfort products since 1989. From our many years of experience in providing safe and comfortable products for horses, we've recently started writing about the many factors to consider when purchasing horse bedding and footing products for your horse and barn. Check out our articles here.
IGK Equestrian LLC's main operations are located in Auburn, New York in the Finger Lakes region.

Green Commitment
IGK Equestrian has a long-standing commitment to using recycled materials to make innovative products.
TruStride™, LiteStride™, 5K Ranch™, and Equi-Blend™ are the only footings on the market which use recycled components.
The synthetic fibers and the ground shoe sole rubber are both 100% recycled post-industrial materials. The SmartStall™
foam is 100% post industrial memory foam as well.
IGK Equestrian is dedicated to both the protection and improvement of riding conditions for horses as well as the creative reuse of recycled materials for our environment.